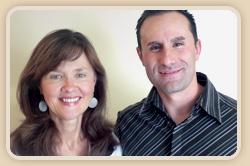 Sometimes, one small action can cause a giant wave in our lives. That was the case for Linda Ogilvie and Zachary Meiu several years ago, and they have been riding the wave ever since.
They first met in 2000, as massage therapy students at The Healing Arts Institute in Fort Collins, Colorado. When they graduated in May 2001, Linda opened her own private practice, and Zachary went on to open his own private practice at a local chiropractic office. For all they knew, their paths would never cross again.
Then, one day about a year later, Linda received a coupon book in the mail. Although she had never been a coupon-clipper, something made her open the book that day and leaf through it.  An ad for a free 15-minute massage caught her eye, and she thought, "Why not?"
Linda didn't even notice the name in small print at the bottom of the ad:  Zachary Meiu.
When she came to redeem the coupon, they were both pleasantly surprised to see a friendly face from the massage therapy world. They agreed to do some massage trades and soon began discussing their futures in massage therapy. They quickly realized they had a lot in common…
A Common Belief:  That massage should be the first line of treatment for soft-tissue injuries.
A Common Goal:  To build a company from their personal connections and professional skills.
A Common Vision:  To provide result-oriented, medical massage treatment to people throughout Colorado and beyond.
And so, Medical Massage of the Rockies (MMR) was born in September of 2002. The initial massage therapy clinic was opened in Fort Collins.  Since then MMR has expanded to multiple cities throughout Colorado.
MMR has provided thousands of individuals with natural resolutions to physician-diagnosed conditions and enhanced public awareness of preventative and restorative self-care techniques. Additionally, MMR has helped to increase public awareness of developments that require workers' compensation and auto accident insurance plans to cover massage therapy.
Because of the effectiveness of medical massage treatment, MMR has expanded to offer high-quality, individualized medical massage in multiple treatment centers along the Front Range. In addition, MMR has developed a sister company in Delaware and Texas, exploring further expansion across the country of services to help people in need of treatment for soft-tissue injuries.
So often, the big blessings in our lives begin with one small action. Linda and Zachary hope their story inspires you to appreciate the power of small actions in your life and to consider medical massage as a first line of treatment.
---